The Pumphouse Run On The Colorado River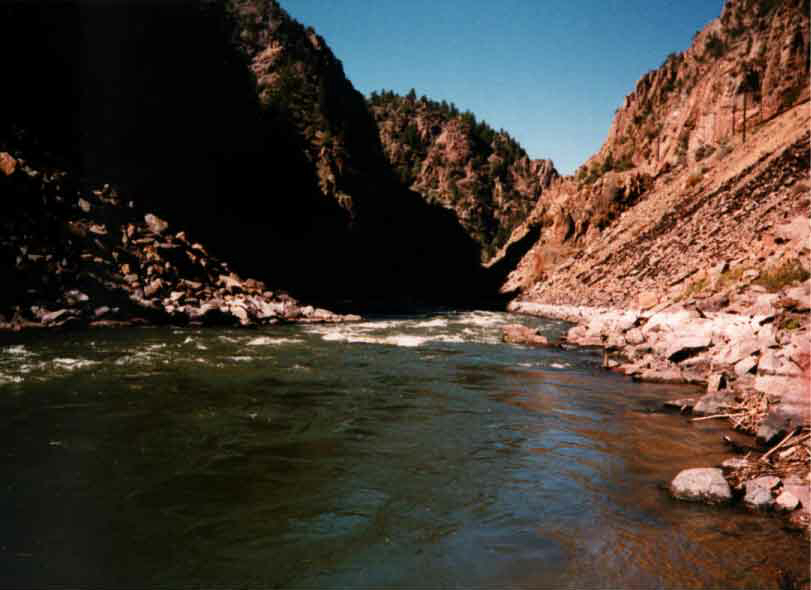 All photos by Paul Katz - The entrance to Little Gore Canyon

River Name: Colorado River
Run Name: Pumphouse Run
Author: Tim Gillespie
Authors e-mail address: uncletim@eguitarcenter.com
Authors Web site: www.uncletim.com
Number of Kayaks in Group: None
Number of Rafts in group: One
Run Description: 15 mile run starting at the Pumphouse put in to the State Bridge take out.
Permit Required: None
Managing Agency:
Fishing Quality: Good for Brown Trout and Whitefish
Flow Information for the Pumphouse run
Location and Directions to Put in: From I-70 at Silverthorn. Take Co Hwy. 9 to Kremmling. About five miles south of Kremmling take Trough Road west for about 10 miles. Put in is marked.
Shuttle: Rancho Del Rio (970) 653-4431. Cost between $20-$30.

Put In: Pumphouse boat ramp, Pumphouse Recreation Site
Put In GPS Longitude: W 106, 30', 30"
Put In GPS Latitude: N 39, 59', 20"

Take Out: State Bridge (possible fee) at mile 15. Alternate take out at Rancho Del Rio (fee) at mile 10.
Take Out GPS Longitude: W 106, 39', 04"
Take Out GPS Latitude: N 39, 51', 27"
Date of Run: October
Water Flow: 1200 C.F.S
Weather Conditions: Clear, 70 degrees
Time of Run: 8:30-6:00
Length of Run: 15 miles
Description Section:
The Pumphouse run is the second most used run in the state. It is so popular because of the fine scenery and it does not flow next to a road. The entire run is away from traffic and offers a variety of scenery including 1,500' canyons, wide basins ringed with high foothills and a good wilderness feeling.
Describe Put In: Trough road is a dirt road that skirts Gore canyon. The landscape is high plains sage brush until you get a few miles from the put in. You can see the boat ramp from the road. There is a large parking lot and an unimproved dirt launch ramp. The river is slow and slightly meandering. The current is slow and provides for a a comfortable start.
When you pull up to the put in, you will notice the river is quiet with shade trees and some grassy spots. My first feeling was, this is going to be a quiet float.


Cautions: If you don't like trains you may experience a little frustration as the railroad tracks in this 15 mile stretch are a little busy. Actually a lot busy. However we found the train to be minor noise pollution. That might change if you were to camp for the night, which is an option.

About a mile downstream from the put in the river enters Little Gore canyon. This should not be confused with Gore canyon the class IV and V big brother that is just upstream of the put in. Gore canyon should be approached very cautiously and only by very advanced risk takers.

Little Gore canyon is short and has only one rapid in it.
The rapid name is Needle Eye.

Access Notes:

Feature # 1: Needle Eye Rapid
GPS Coordinates:
Long: W 106, 31', 30"
Lat: N 39, 58", 00"
Known River Rating (Blue Book): II+ Western Whitewater.
Personal River Rating: II+ There is a move that must be made but it is fairly easy to make it.

Description of Feature:
The rapid is formed by the presence of a large house rock in river middle. At 1200 C.F.S. the river pours through a slot with side walls about six feet high. The move was from river right to river center after the house rock. A small drop right after the house rock is about four feet at 1200 C.F.S. and everything flushes at that level. Apparently at higher flows a mid stream reversal forms. We did not scout this rapid but you can from the right bank and probably from the left as well. Make sure to stop well before the rapid. I have heard reports of going left around the house rock, but for us it seemed the easiest route was right. A small wave train follows the rapid.

Cautions: If you don't make the move you will probably just go over the rapid sideways, hit some rocks and possibly flip your boat. Other than hitting rocks you will probably flush out. Everything will be different at higher flows. Most II+ rapids are very easy. This one might warrant a little caution.

Feature Recognition: The river narrows and small riffles appear as you enter the canyon. The rapid appears as soon as you enter the canyon.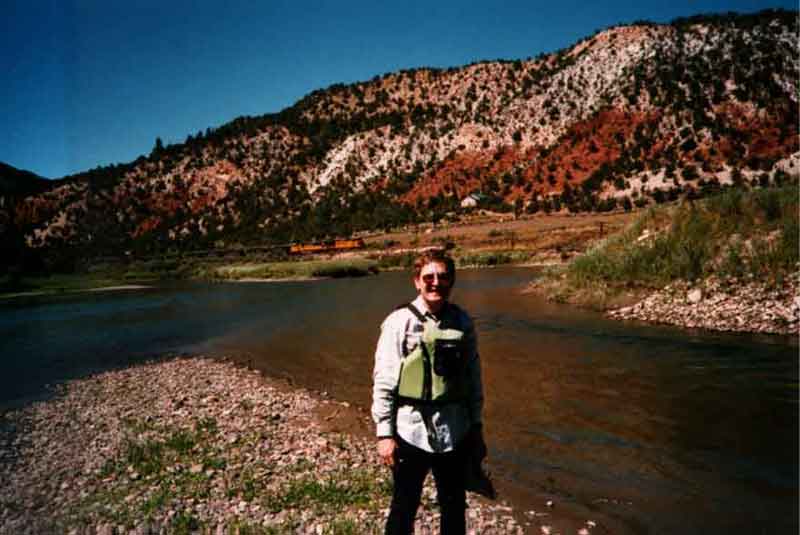 Photographer Paul Katz actually liked the trains coming by every half hour.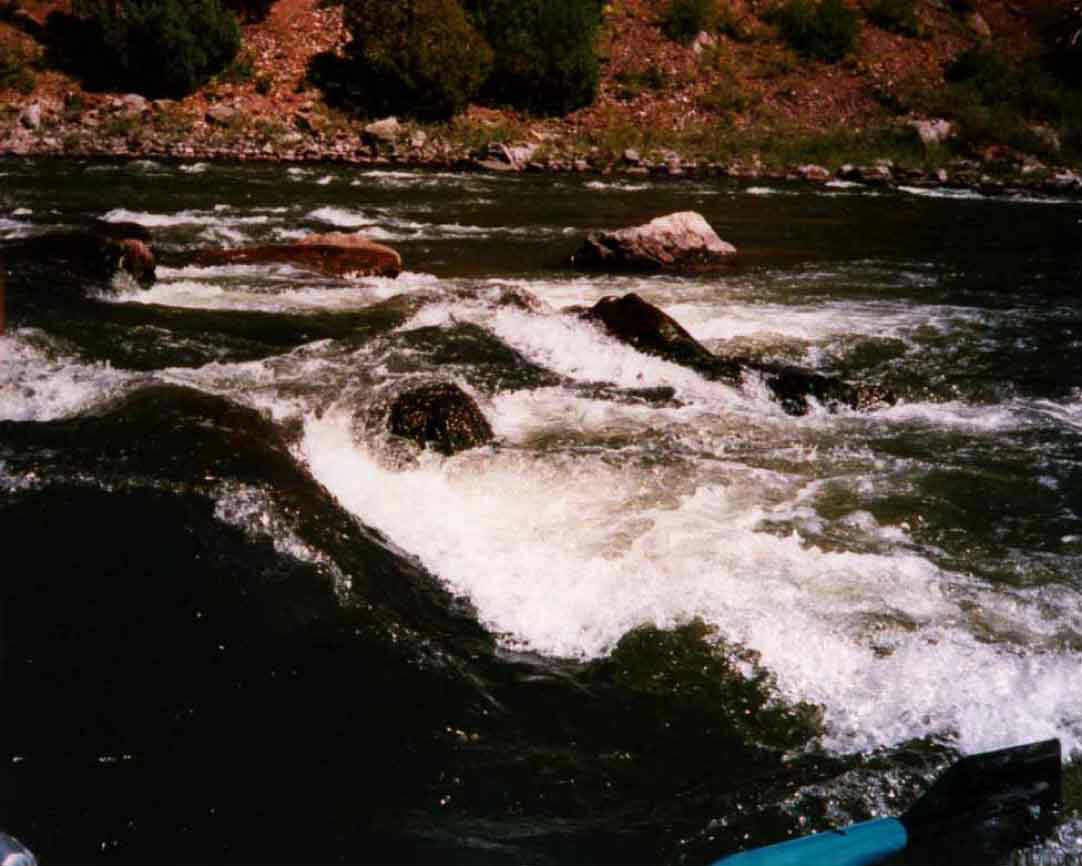 A small hydraulic along the way.
After Needle Eye Rapid the river leaves Little Gore canyon a enters a wide flat open area that continues for about five miles. The Walt Woodward Watchable Wildlife Trail and the Blacktail Creek enter just to the right after you clear Little Gore canyon. A mile of so down river, Sheephorn Creek enter the river on the left. Just shy of five miles past Little Gore canyon the radium bridge crosses the river with river access on the left at the Radium Recreation Site. The recreation site is just down river from the bridge. Note that there is very little access from roads and cars on this run. The Radium Bridge is the first real access after the put in and there is not another one until Rancho Del Rio which is about six miles downstream.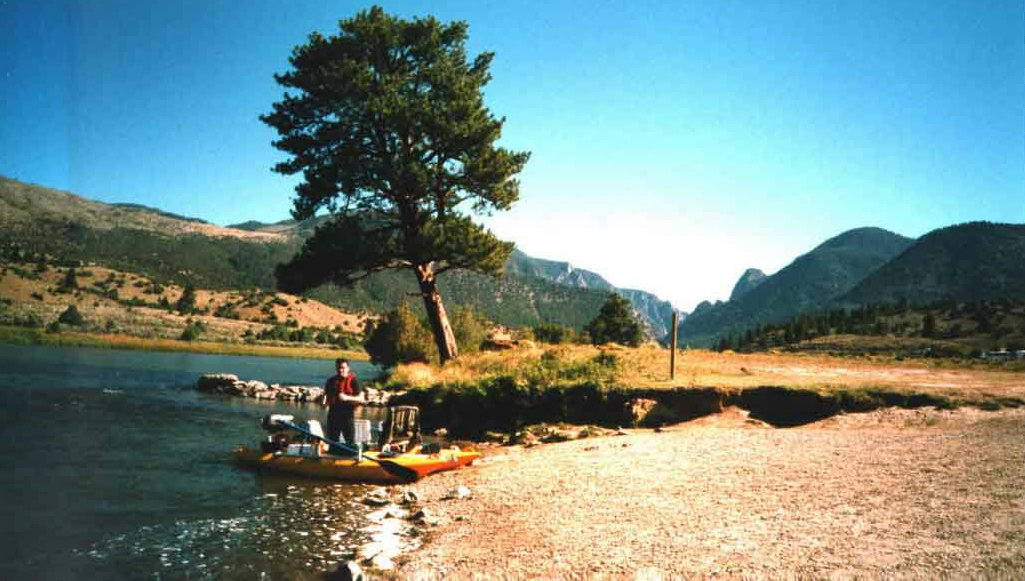 There are several campsites along the river and they are quite nice!
Feature # 2: Radium Bridge:
GPS Coordinates:
Long: W 106, 33', 25"
Lat: N 39, 57', 15"
Feature # 2A: Radium Recreation Site:
GPS Coordinates:
Long: W 106, 33', 25"
Lat: N 39, 57', 08"

Feature Recognition: Look for the bridge.
This bridge is easy to navigate and presents no problem.

As you leave the recreation site, the current is slow and the gradient maintains a gentle pitch. A large flat basin extends for a mile and a half until Red Gorge begins to raise the side walls to about 1,300 to 1,500 feet high. The river elevation is about 6,800 feet above sea level and the foothill peak on the right is 8,500 feet high. The foothill peak on the left is over 8,300 feet high. The canyon is about a mile and a half long, with the steep side walls about a mile long. The train tracks hug the right side of the river through Red Gorge. Inside Red Gorge is the biggest rapid of the trip. Yarmony Rapid.

Feature # 3: Yarmony Rapid
GPS Coordinates:
Long: W 106, 34', 28"
Lat: N 39, 56', 05"
Known River Rating (Blue Book): II+ Western Whitewater.
Personal River Rating: III-
Feature Recognition: There is a sign warning of the rapid as you approach it. Scout the rapid from river left. Tie up before you round the bend. The rapid starts just after the bend.

Description of Feature: The rapid is a quarter mile long run as the river funnels into a constricted bed. The canyon is somewhat steep and confining. The rapid features a hole on river right about 2/3 of the way through. Before that, it is mostly a splashy small wave train. Most people run the rapid on the left side until they pass the medium size hole on the upper right. Keep in mind this description is based on my experience at 1200 C.F.S..
Warning: At 3,000 C.F.S. a 3/4 river wide reversal forms that has taken a few lives. The usual route is to move to river right to avoid it before you encounter the shelf or the hydraulic. It is situated near the bottom of the 100 yard long rapid. Know the river water level and make sure you have the skill to do this before you launch.
After I got back into town, I talked to an experienced fishing guide and expert boatsman Mike Arnold. Mike said he has seen Yarmony rapid flip every other raft through at higher water. I scouted this rapid because I could not see the path through and the light levels were starting to get low. As I scouted Yarmony, I saw three boats run the rapid and they all ran it left, and made a move right after they passed the hole. At 1,200 C.F.S. the hole does not appear to be a big threat. Many people will not scout this one, but with only one boat on this float and my first time through it, I get a little cautious.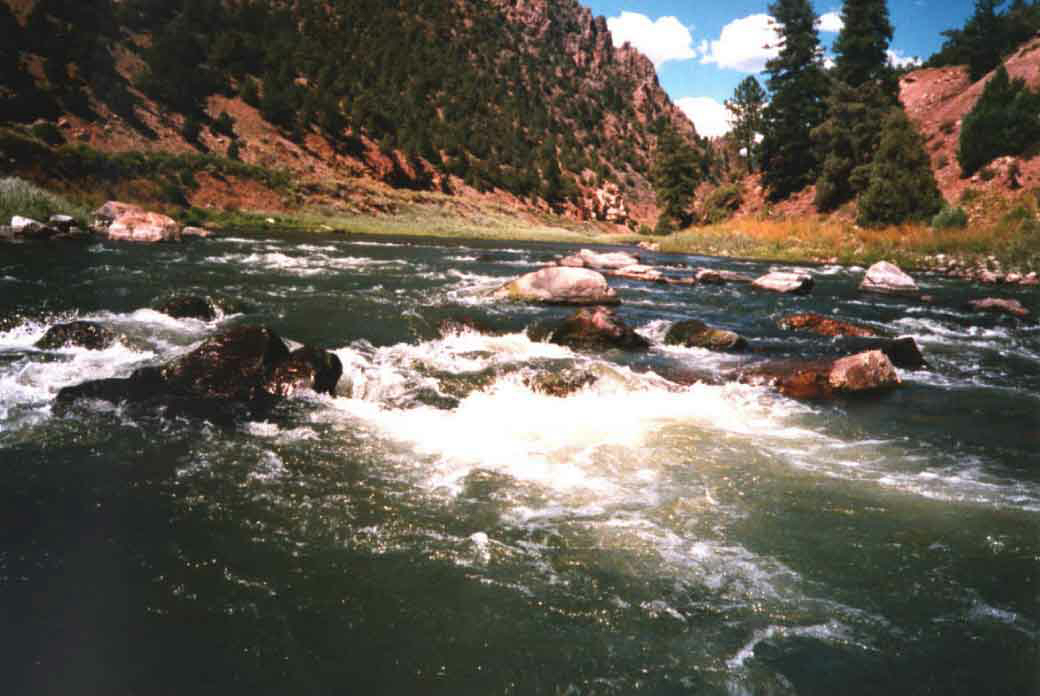 There are several small rapids that do not get any mention. This is a typical no name rapid.
At 2,000 C.F.S. this rapid may be totally submerged.
If you consult the guide books, you may get the idea there are only a few rapids on this section. There are only two big rapids but there are several areas that require you to find a route. I probably would not float this section below 1.200 C.F.S. because most rafts will scrape bottom a few times, and the rock gardens make it difficult to guess which route is best.


Feature # 4: Rancho Del Rio
GPS Coordinates:
Long: W 106, 36', 29"
Lat: N 39, 53', 42"

Feature Recognition: After you pass an island, you can see the beach and take out on river left. The buildings are a dead give away you have arrived, because there are few buildings on this run. Rancho Del Rio is a modest retreat with some services. I believe there is a fee to take out here. These are also the guys that run the shutte. Shuttle number is (970) 653-4431. They can park your car here or at State Bridge. They have a standard way of operating and they will explain it to you when you call. The interesting thing about shuttles is that most of the time I never meet anyone. They just pick the truck up and we float to it. It is always a good idea to bring a spare set of keys.

Feature # 5: Yarmony Bridge
GPS Coordinates:
Long: W 106, 36', 58"
Lat: N 39, 53', 26"

Feature Recognition:You can see this one coming before you get to it. The river takes a turn to the left just before you get to the bridge. As a result of reading River Rescue by Les Bechdel and Slim Ray and Kayak by William Nealy, I take all bridges seriously. Even easy ones like this one. After Rancho Del Rio the current speeds up a little. At this point the Colorado is a slow smooth river with very little whitewater. Floating to State Bridge is an all day affair. Daylight fades quickly in October and we got a little anxious after watching people get out at Rancho Del Rio. If you like to fly fish, this is a great float from beginning to end. Although whirling disease has taken a heavy toll on the upper Colorado, it is still a good river. Since it affects Rainbow trout the most, that is the fish that has suffered. Now the river offers mostly brown trout but they can be very big indeed. I have heard stories of 20" plus fish more than a few times. The Whitefish is also present here and I find this a fun fish to catch. They are more than willing to take a dropper fly presented off a big dry fly. They usually are in the 15" range and fight quite well. Two years ago they saved what otherwise would have been a miserable fishing trip.

Flies To Consider:
Elk Hair Caddis in the summer trailed by a Pheasant tail (size 18) is a good combination.
Brown trout love Woolly Buggers and anyone can fish one.
Hoppers and crickets are good summer patterns.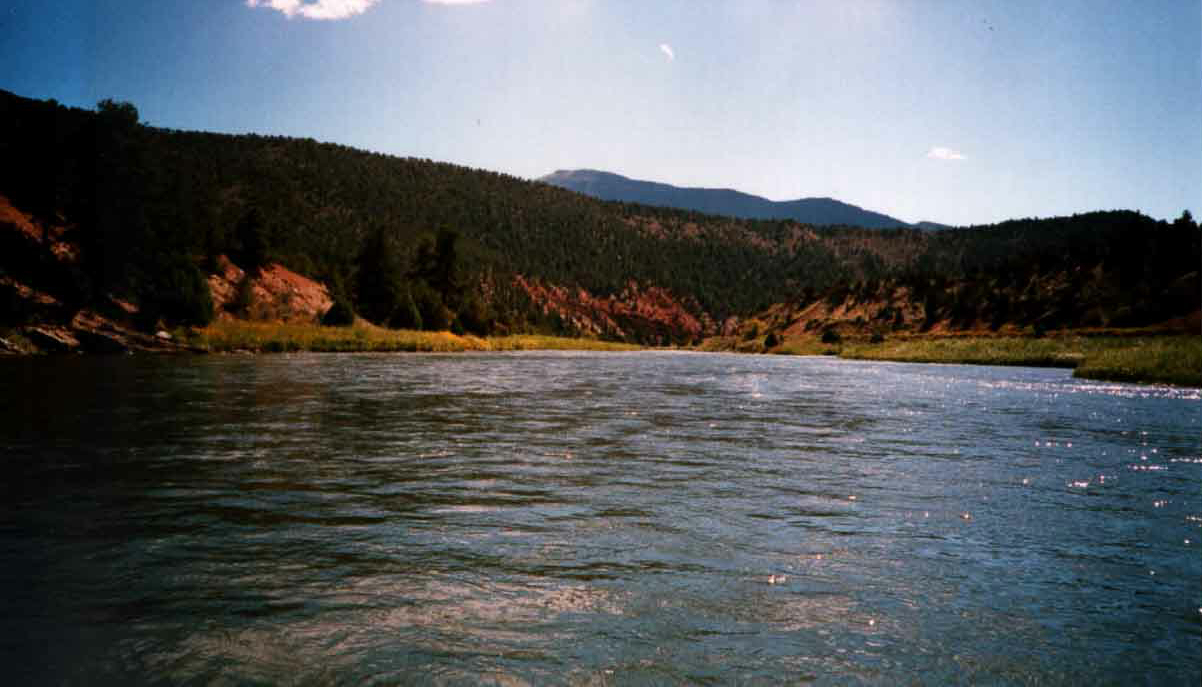 Much of this run has slow quiet sections.
The final four miles are mostly quiet with a few small rapids. The open character of the river has completely taken over. The canyons are now far behind and weed beds are lining the slower shallow water.

The Piney River flows into the Colorado about a half mile before state bridge on river left.

Feature # 6: State Bridge
GPS Coordinates:
Long: W 106, 39', 04"
Lat: N 39, 51', 27"

Feature Recognition:One half mile after the Piney River enters the Colorado, State Bridge appears. The take out is on river left. There was a fee of $2.50 per person last year. Lots of take outs are strange but this was one of the best. We met three people that could hardly stand up. I'm still not sure how they were able to pack up their inflatable and drive away. The take out is modest and unimproved. Dirt and mud (if it rains) are the normal conditions. Trucks are a good idea, but cars can get the job done.